How to solve 'Error Occurred while Installing the Selected Updates" on macOS
Error messages are a common phenomenon in the digital world, and macOS does not make an exception. One of the most unpleasant error messages you can meet while using a Mac is Error Occurred while Installing the Selected Updates. This Error may be an obstacle to your work and may prevent you from using the full potential of your Mac. If you've encountered this Error, you don't have to worry about it because it can be solved with a few simple steps. In this article, we'll provide a comprehensive guide on how to fix the Error that Occurred while Installing the Selected Updates problem in macOS. We'll introduce you to the common causes of this Error and provide you with practical solutions that can help you solve the problem in no time. Whether you're an experienced Mac or a new user, this article will provide the information you need to get your Mac back to work.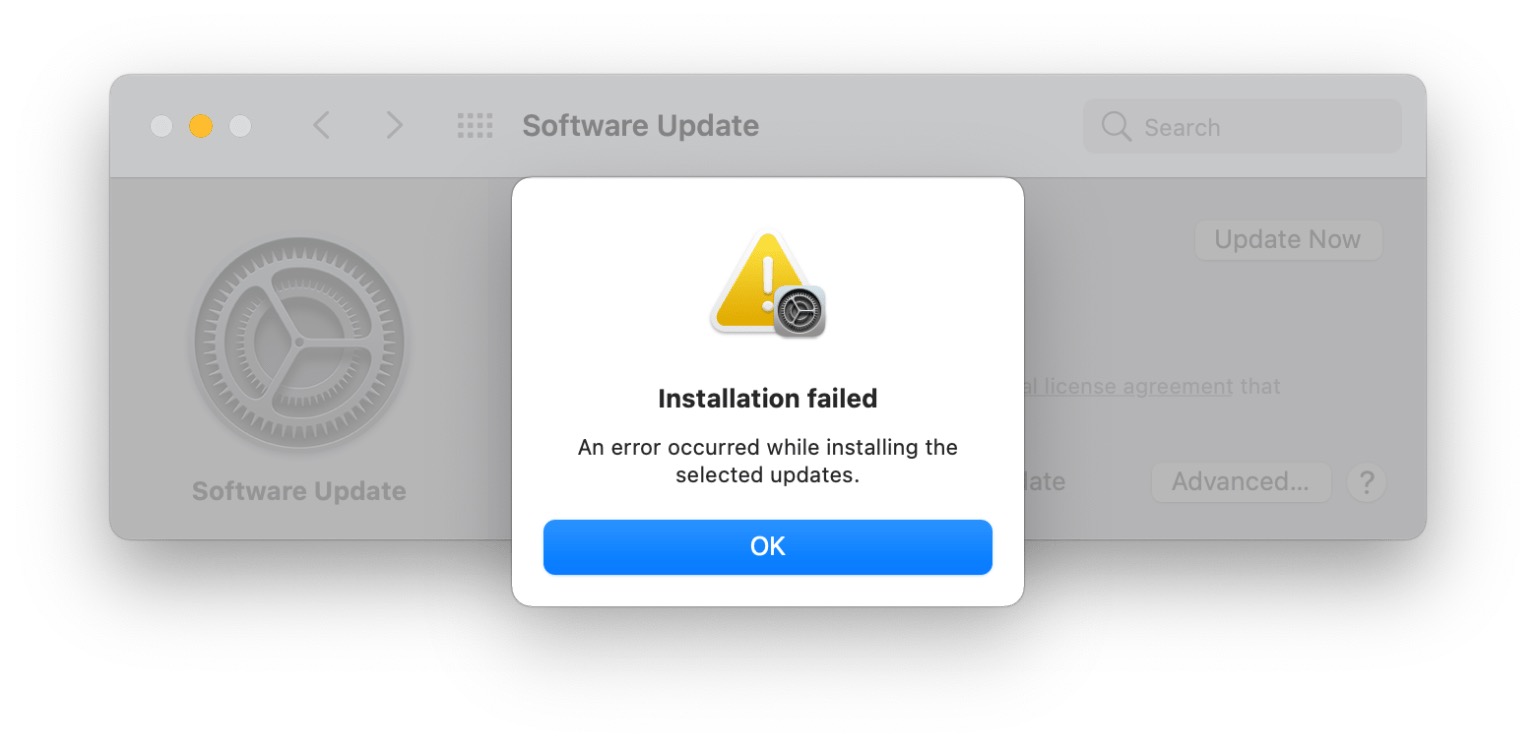 We'll examine everything you need to know, from troubleshooting tips to advanced solutions to help you solve the problem and restore the maximum performance of your Mac. So let's dive into the world where the problem "Error Occurred while Installing the Selected Updates" problem in macOS.
Common causes of "Error Occurred while Installing the Selected Updates."
There was an error installing the selected updates' MacOS Reasons
Insufficient disk space
Insufficient disk space is one of the most common causes of the Error Occurred while Installing the Selected Updates problem in macOS. If your Mac doesn't have enough free space to accommodate the updates, it will throw this Error.
Corrupted software update files
Another common reason for this Error is the corrupted software update files. This may occur for various reasons, including network disconnection, power supply disruption or software conflicts.
Outdated system software
Obsolete system software can also cause this Error. It is important to keep your MacOS up to date to avoid compatibility issues with the latest software updates.
Security Software Interference
Security software, such as antivirus and firewall programs, may sometimes interfere with the software upgrade process and cause this Error to occur.
System File Permission Problems
System file permissions problems can also cause the Error Occurred while Installing the Selected Updates. If system files do not have the correct permissions, this may prevent software updates from being properly installed.
These are some of the most typical causes for the Error that Occurs while Installing the Selected Updates error in macOS. By understanding these reasons, you can take steps to avoid them and ensure a seamless process of updating the software.
How to solve 'Error Occurred while Installing the Selected Updates" on macOS?
The following three methods are demonstrated by the user who "There was an error installing the selected update" when installing macOS and finally resolves this issue.
Check your internet connection.
If you experience a bad Internet connection while downloading updates, you may encounter a problem: An error occurred while installing the selected updates. In this case, try restarting your router or switching to another Internet connection.
Restart Mac and try again.
This is a fairly basic and effective way to solve your problem. Restart the Mac, download and install the updates. The background may interfere with the installation process, so you can reboot to fix it.
This issue can also occur if the Apple server is congested. If Apple drops the update you are trying to install, millions of other Apple users will likely download the same update as you. This can prevent the server from serving each user properly, which can cause problems that fail to install on your Mac. Therefore, stepping back and installing the update in a few hours is a good idea.
Verify that MacOS is not registered for the beta update
If you try to download the final version of MacOS and it fails, you may still be registered with a beta program. Some users have experienced this and have found that the "installation failed" Error will be resolved by unregistering from the beta update.
Click Details in the Software Update System Preferences panel and choose to Restore Defaults to unenroll from receiving the Mac beta update.
Use Disk Utility to repair disk errors.
You can use Disk Utility to check for and repair disk errors that cause the "Errors occurred while installing the selected updates" problem.
To do this, go to Finder Utilities and launch the Disk Utility.
Choose the startup disk and click the First Aid tab.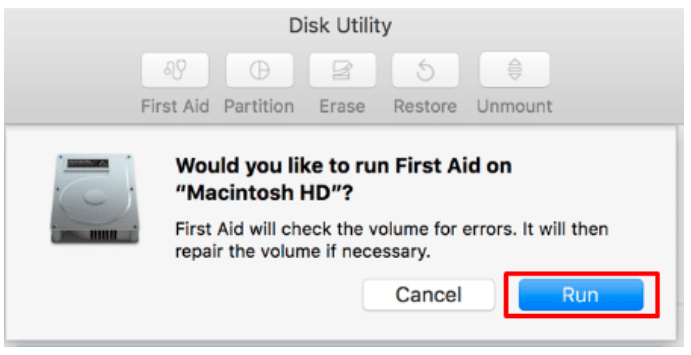 If errors are detected, click Repair Disk to attempt to repair the errors.
Install in safe mode
Try installing the update in safe mode.
To start your Mac in Safe Mode, shut down your computer and, if it is an Intel processor, hold down the Shift key and turn it back on. For Apple processors, press and hold the power button until the boot window appears.
If a third-party app or service is causing this problem, you should avoid it when running in safe mode.
Select the boot disk, hold down the Shift key and click "Continue in Safe Mode."
Log in to your Mac. Then choose Safe Boot in the upper right corner of the window.
Try downloading the macOS installers directly.
This is rather a workaround as it bypasses the configuration panel of Mac's software update system, but you can try downloading the macOS installer via a direct download link from App Store or Apple, downloading the full macOS installer application directly using a command line, or using the excellent free third-party app MDS (Mac Deploy Stick).
If you use MDS, download and install the application (you can download it for free from the original TwoCanoes), launch the MDS application, select Download MacOS from the sidebar, and select the version of the macOS system software you wish to download and install.
Once you have the full Installer of macOS, you should be capable to launch it directly without experiencing the "Installation Failed" error that only appears in the system preferences.
This issue is regularly checked over time with various macOS system software versions.
In recent macOS 11 and later, this is what it looks like.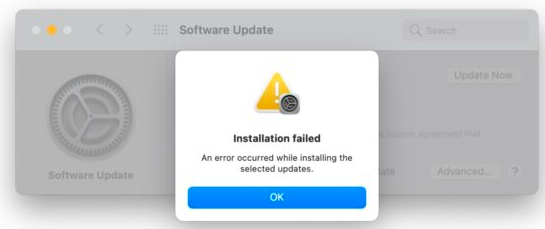 This is how it appears in macOS 10.15 (Catalina) and earlier.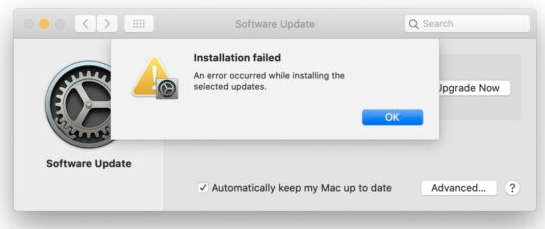 Update using Bootable Installer
Another solution is to update your Mac using a bootable installer. This advanced solution requires you to create a bootable installer on your external drive and Boot from it instead.
If you've ever used this method, or if you've been able to find out how to do it, it might be worth trying it out as a last resort.
Step 1: Download the macOS update from Mac App Store to an external drive with more than 16GB of free space.
Step 2: Then, download and launch Disk Creator on your Mac. Find the USB drive in the app. Select the macOS update file and click Create Installer.
Step 3: Restart your Mac and select the USB installer from the list to install the macOS update.
Reset PRAM & NVRAM Caches
You can try resetting your Mac's PRAM and NVRAM caches. You may switch error messages and interfere with the update process if these settings are incorrect.
To reset these, shut down your computer and tap and hold the Option+Command+P+R key until the startup chime rings twice.
Try installing the update again.
Check Your Storage Space
Make sure your Mac has enough storage space. If there is insufficient free space, the update may not install properly, and you may receive an error message.
In this case, try to free up some space and see if the problem goes away.
Conclusion
In conclusion, the macOS "Error occurred while installing the selected update" error can be a frustrating problem to deal with. But with the help of this article, you now have the necessary knowledge and tools to solve this Error quickly and efficiently. The solutions in this article help you overcome them and get your Mac up and running again, including disk space shortages, software update file corruption, old system software, security software interference, system file permission issues, and more.
We hope this article helped resolve the "Error occurred while installing the selected update." If trying all the solutions doesn't solve the Error, it is best to seek professional help.
In conclusion, keeping your Mac up to date is very important for its performance and security. By following the solutions outlined in this article, you can facilitate the software update process and avoid future errors. With a little knowledge and effort, you can keep your Mac at its best and enjoy its potential to its fullest.