How to activate Windows 11
Microsoft recently launched Windows 11, the latest Windows operating system. When you download Windows 11 and experience the new features of Windows, you get closer to the things and people you like. If you don't activate Windows 11, you'll probably get a message saying: Windows isn't activated. The operating System offers a brand-new experience but includes many old things from Windows 10, Windows 7, and Windows 8. this same applies for activate windows 11 pro and how to activate windows 11 home
So, when you install Windows 11 on your PC, Microsoft prompts you to make sure you have a genuine copy of your Operating System. If Windows 11 fails to activate, you will not be able to access specific applications, tools, and operating system features.
For example, you might need to activate Windows to customize the taskbar, change the background image/wallpaper, install a new theme, or customize other PCs. The watermark "Activate Windows" remains in the lower left corner of the screen. You may also see a pop-up message that prompts you to activate the OS.
Here we will discuss the best method to activate Windows 11 on your computer.
Reasons for Windows 11 Showing as Non-Genuine
Someone put counterfeit Windows in your device.
Hardware changes were made, such as replacing the motherboard.
If the device was recently repaired, the correct product key or license was not used after the repair.
Your work device isn't connected to your company's network lately.
How to Check Windows Activation Status?
If you haven't entered a product key immediately after installing or upgrading to Windows 11, your device probably hasn't been activated. You can check your device's activation status from the Settings app or Command Prompt.
Using Command Prompt
The command prompt is a universal utility for checking terminal information.
Right-click the Start menu or press Windows+X to select Windows Terminal (Admin) from the Quick Access menu.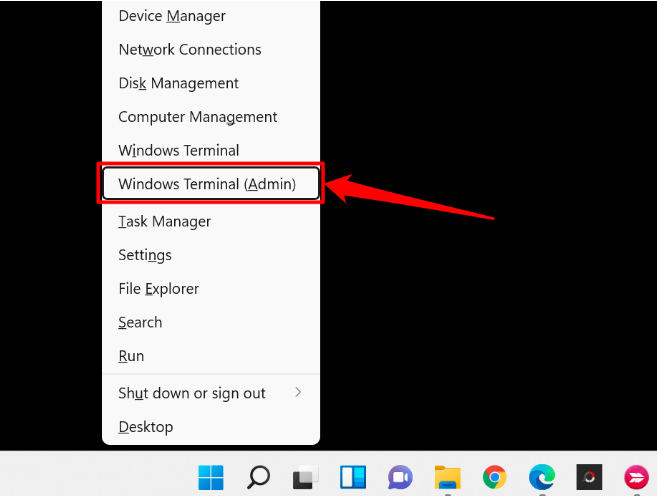 Select the drop-down icon in the tab bar and choose Command Prompt.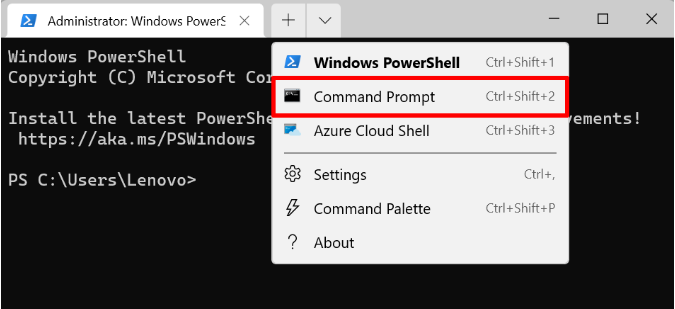 The Command Prompt Console is displayed with Administrator privileges.
In the console, type or paste slmgr /dli and press Enter.

The Windows Script Host window displays a message indicating whether a product key is linked to the Windows 11 copy running on your device. Of course, the error message "Product key not found" means Windows is not enabled.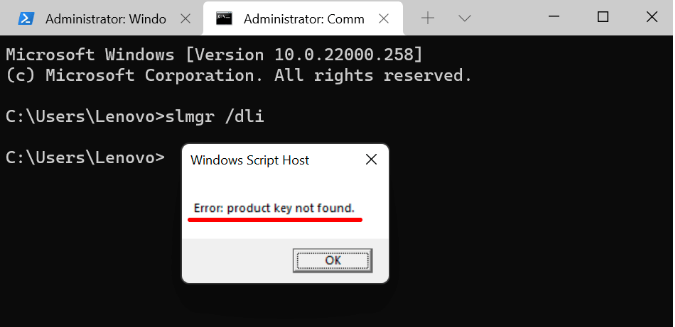 Check Window Active Status from the setting.
If you use an unverified version of Windows, the Settings app will display the message "Windows is not activated." You can also check the activation status of your PC from the Windows Activation menu.
Select Settings → System → Activation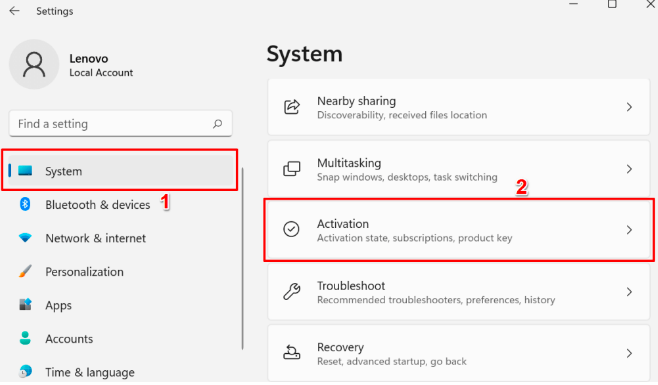 Your computer is not activated if an error message Not active appears in the Activation Status line.
If you see an error code and a prompt for entering a product key when you extend the Activation Status tab, your Windows computer is not activated.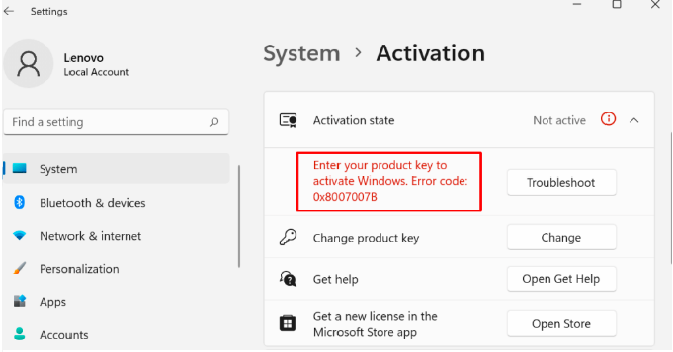 How to Activate Windows 11
There are some ways to activate your Windows 11 computer.
Product Key
The product key is a 25-character code that is used to activate Windows 11. What you'll see is a product key: XXXXX-XXX-XXXXX-XXX-XXX-XXXXXXX. You must enter the product key either during Windows 11 installation or when you log in to Windows 11. When you have a product key, go to your activation settings and use the change product key option. Type the product key and activate Windows 11.
Digital license
A digital license is a Windows 11 activation method where you do not need to enter a product key. Digital licenses are associated with your hardware. They are linked to your Microsoft account. You don't have to remember any product key. You're all set after your computer is connected to the Internet and you log in to your Microsoft profile.
So, when you activate Windows 11, you must know how you activated it. You must only sign into your Microsoft account with your digital license and complete the activation.
If you Activate Windows 11 with a product key, save it and keep it safe. Next time you format your computer and install Windows 11, use the same product key to activate Windows 11.
Method to Activate Windows 11
Using Product Key
If you have a Product Key for Windows and upgrade Windows 10 to Windows 11 via Windows Update by keeping all your programs and files, you don't require to activate Windows 11 separately. During the installation of Windows 11, the System will be automatically activated.
If you install Windows 11 and establish that it is not activated, you can activate the Operating System manually with Windows 11 activation code.
Start the Settings app and go to the System. You can see a message on the right side that says Windows is not activated. Just select Activate Now button to continue.
On the Change product key tab, click Change.
Type the Windows 11 activation code and click Next. Then Windows will start the activation job.
Using Digital License
A digital license (called the Digital Law in Windows 11) is a major digital version of a product key that is associated with your Microsoft account. This is a Windows activation method without having to enter a product key. A digital license or a digital law would be the ideal activation method if:
You bought a Windows 11 or Windows 11 Pro upgrade from the Microsoft Store app.
You're upgrading to Windows 11 by an eligible Windows device or an earlier version of Windows.
You're upgrading to Windows 11 by Windows 11 Insider Preview build.
You bought a digital copy of Windows 11 from an authorized retailer.
If you don't have a product key or your copy of Windows 11 is from an unauthorized source, you can purchase a digital license for Windows 11 from the Microsoft Store application.
Go to Settings > System > Activation (Activation) and expand the Activation state drop-down menu, and select the Open Store button on the Get a new license in the Microsoft Store app (Get a new license in the Microsoft Store app).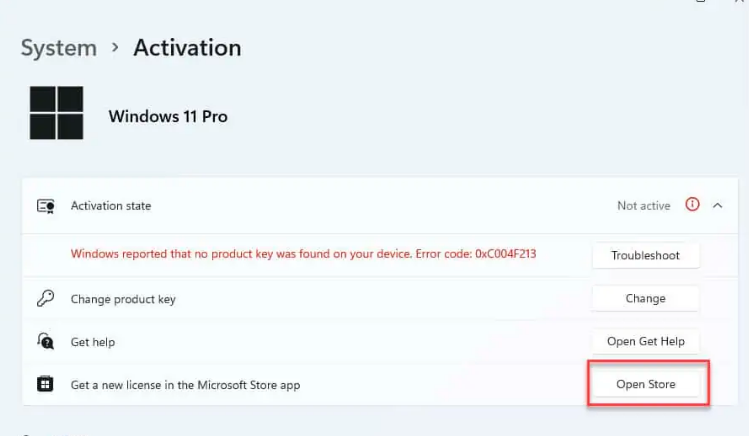 Press the Buy button and go after the prompt to purchase Windows 11 with a genuine license.
Make sure Microsoft Store is connected to your Microsoft account. Tap the profile icon in the Search bar, select Sign in and provide your profile data.
After you buy a Windows 11 license, you must see a Windows is activated with a digital license message when you check the Activate Windows menu.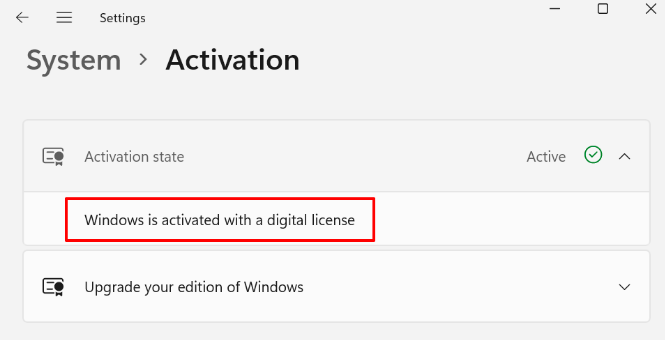 If Windows is not activated after the license has been purchased, restart your PC/Laptop, connect it to the Internet and check again.
Using Command Prompt
If you want to activate Windows 11 using the command line, you can try the following steps.
On the Windows 11 computer, click Start and enter CMD.
Select a command line and click Start as administrator.
Enter the slmgr/ipk XXXXX-XXX-XXXXX-XXX-XXX-XXX-XXXXX command (25 character product key).
Press Enter, and if the product key is valid, Windows 11 activation is completed.
Make sure you have provided the correct product key. Successfully installed product key confirms that Windows 11 was activated.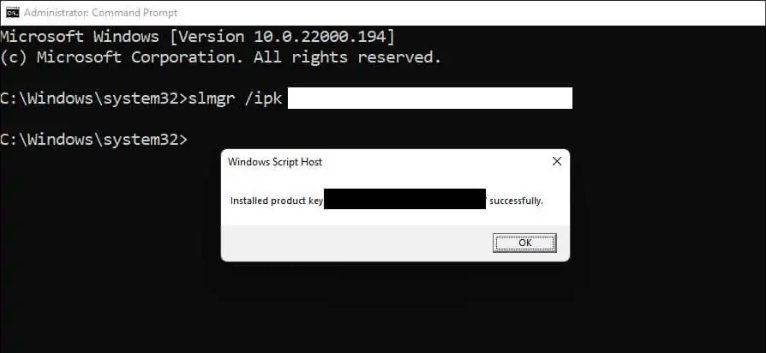 Why you need to activate Windows 11?
If you do not activate Windows, you may encounter some restrictions when using Windows, or you may not be able to use the premium features of the Windows operating system. Here are some of the explanations for why you need to activate Windows 11:
Windows Activation watermark on the screen
A watermark appears in the screen's lower right-hand corner with the word 'Activate Windows. Go to Settings to activate Windows. This irritating watermark will always be there until you activate Windows 11. However, you can also periodically receive messages asking you to activate your Windows copy after the 30-day trial period.
No Personalization settings
You can't change the customization settings if you don't activate Windows 11. In other words, you cannot change the heel, theme, title, start menu color, transparency, etc. Displays an error message saying:
"You must activate Windows before you can customize."
If you often switch desktop wallpaper, the background of conclusions, screen, theme, etc., you may encounter problems if you do so in activated Windows 11.
You may miss some Windows updates.
If you don't activate Windows 11, Windows can only download critical updates for your device. Some updates, such as optional security updates or updates, may be omitted. Your computer can skip some of Microsoft's latest downloads, services, apps, or drivers' updates. Your computer can be easily attacked if you've missed some security updates that help prevent viruses or malware. You may also skip some errors and match corrections.
Windows Activation Frequent Notification
This is probably the most annoying part of the lack of an activated Windows copy. You may receive countless notifications at a specific time interval that ask you to activate the Windows installation with a valid product key. Whether you're watching a movie or reading an article on the Internet, you can run into this pop-up message.


Where to get a Windows 11 Home key?
Purchase one here:  https://mylegitkeys.com/product/windows-11-home-product-key-activation-license
Where to get a Windows 11 Pro key?
Purchase one here:  https://mylegitkeys.com/product/microsoft-windows-11-pro-product-key-activation-license
Conclusion
You must now be able to get updates and access to full use of Windows 11 features. Remember to use the original digital license or product key you received from authorized retailers or directly from the Microsoft Store. Never use the digital license or product key you found on the Internet to activate Windows 11. It may contain viruses or bad scripts that will lead to the theft of your important data without your knowledge.