How to activate Office 2019
After a series of previous versions, Microsoft finally released the official version of Office 2019. It is stable, so you can download and use it right now without worrying about the fatal bugs in the beta versions. However, we regret to inform you that according to the disclosure of information, Microsoft Office 2019 works only on Windows 10. So if you use Windows 8, 8.1 or earlier, you won't be able to install it.
When you run an unactivated Office app, you will be prompted to log in to Office. You can activate Microsoft Office using a product key or the associated Microsoft account. This article describes several ways to activate Office on a computer with Windows. Follow the correct instructions according to your situation.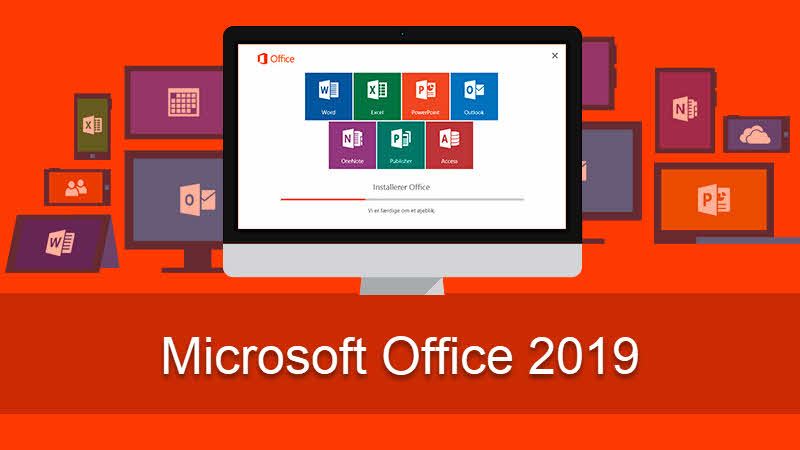 System Requirements to activate Office 2019
For PCs, Microsoft does not support any version of Windows 7 or 8, so Office 2019 requires Windows 10. Here's what you need to understand if you want to use Microsoft Office 2019.
There is no method to install Office 2019 on Windows 8/8.1 or Windows 7. However, since Office 365 agrees with Windows 7 SP 1 and Windows 8/8.1, you can purchase a subscription for Office 365 (which offers all the features and more of Office 365) and install it easily on Windows 7 and Windows 8/8.1.
If you are new to Office 365, Office 365 is a subscription service, while Office 2019 is a one-time purchase.
For your information, here are the minimum system requirements to use Office 2019.
1.6GHz or higher, 2-core processor
Skype for Business is recommended for 2.0GHz or higher
4 GB of RAM for 64 bits and 2GB for 32 bits
4.0GB free disk space
1280×768 or higher screen resolution
Windows 10, Windows Server 2019
Graphics hardware acceleration requires DirectX 9 or higher, and Windows 10 requires WDDM 2.0 or higher.
How to activate Office 2019?
Log in to activate Microsoft Office with a Microsoft account
You don't need product keys if you already bought a license or just reinstalled Office on a new computer. Instead, you only need to sign in to the Microsoft profile you used when you purchased the license. This is a simpler and safer way to activate a copy of the Office. This way, you don't have to keep the product key anywhere.
Step 1: Open any Office application. (Word, Excel, etc.)
Step 2: A pop-up window will prompt you to log in to the system; click the "Sign in" button.
You can also go to the File > Account > Activate Product menu.
Step 3: Enter the Microsoft account credentials to which the Office license is bound.
Use the Office Activation Wizard over the Internet
The Office Activation Wizard displays when you run an Office program that has not been activated. Verify that you have access to the Internet and that Windows is enabled. Start an Office application to restart the Office Activation Wizard and choose (I want to activate the software over the Internet), then select (Next) or use the Enter key. Follow the method to complete the activation process.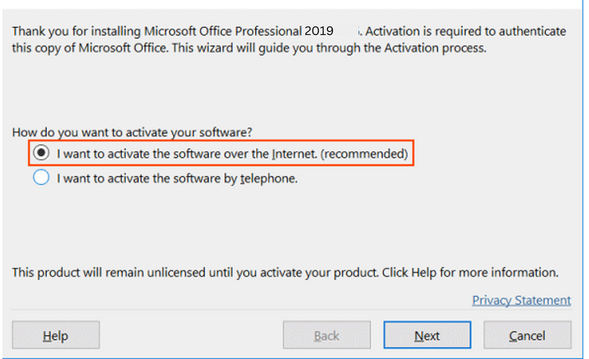 Or, when you can't activate the Product, you can contact Microsoft support and activate the Product over the phone. The Microsoft Office activation process is very easy and secure.
Activate Office with Product Key
You need to get a product key if you bought an Office license from an authorized retailer or online store. The Office can be activated directly with the help of the product key. However, connecting the product key to your account is best before you sign in with the same account. To do this, follow the method given below.
Make sure the product key is ready with you.
Step 1: Go to office.com/setup. Sign in using your Microsoft profile.
Step 2: Now enter the Product key of 25-character.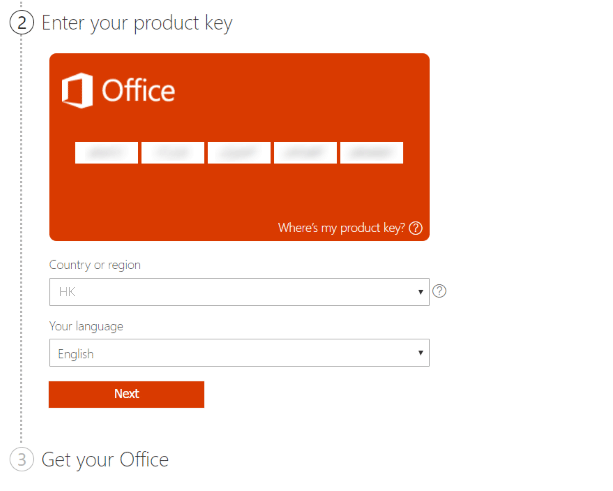 Step 3: Select your country and language. Click Next.
Step 4: You will be redirected to the Microsoft Service and Subscription page.
Step 5: Find the Product you just activated and click "Install" to download the installation.

Step 6: Start the installation to install Office on your computer.
Step 7: When prompted, sign in to the same Microsoft account.
If you've already installed Office, you can sign in to the system by going to File > Account > Activate Product. This process is a one-off, and the license is already associated with your account. You don't need to keep his product key because it will always appear in your Microsoft account.
How to check the activation status of Office 2019?
After you install and activate Office 2019 on your computer, you can make sure your copy of Office is activated perfectly in any application (Excel, Word, PowerPoint, Outlook) in the File -> Account tab. The 'Product Activated' caption suggests that your copy of Office has been activated. If you see the Product Activation Required label, your MS Office instance needs to be activated.
What happens if Office 2019 is not activated?
Microsoft Office is the gold model for office applications. Although there are very incredible free alternatives for Microsoft Office, none of them are close to this real deal. Many users have the following questions – What happens when the trial period is over, and Microsoft Office is not activated? Can you use an unlicensed copy of Office forever? How long can you use it?
Let's take a look
Holding a copy of this office pack can cost you very much. Now, the full version of Microsoft Office 2019 Home & Business is sold retail for USD 249 per license per computer – The price is quite high. And then there's a free trial of Microsoft Office that allows you to download and try all of Microsoft Office for 30 days.
Have you installed the trial or tried your chance with a not-activated copy of Microsoft Office 2019 on your system? Here we will discuss how long you can use Microsoft Office without activation.
What happens if Microsoft Office isn't activated?
The free trial of Microsoft Office gives you all the components of the Office 30-day package – Access, Excel, OneNote, Outlook, PowerPoint, Publisher, and Word. But then activation is required.
You can operate Microsoft Office for free, and you can't activate it, but it has some restrictions.
You will always have a product notification at the top of the app. This is a yellow bar that says "Word is not activated. To continue using Word without interruption, activate before the date." The Activate button is located next to the message.
If you don't activate the Office before the date specified in the alert, you won't be able to use many features of the Microsoft Office applications. All Office editing features have been disabled.
FAQs
How long can Microsoft Office be used without activation?
If you have installed the 30-day trial copy of Microsoft Office 365, you can use Office only for 30 days without any issues. Your payment method will be charged after the 30-day trial unless you cancel it.
If you want to use a trial version of Microsoft Office 2019, you can utilize it for five days without activating the trial copy. After that, most functions of Microsoft Office will be disabled. As of now, Microsoft doesn't officially provide the Office 2019 trial. So, if you used any other way to download the Microsoft Office 2019 setup, you can use it for just five days.
Can I download Office 2019 for free?
Although you can download Office 2019 for free from Microsoft, you must own a license key or have a subscription to Microsoft 365 to use your programs in it. In this sense, you can think of a free alternative to Office, which is very much.
How to if the Microsoft Office product key already installed?
Here's how you see your product key in Microsoft Store: Go to www.microsoftstore.com. In the upper-right corner, select Sign in and enter the username and password you used to purchase Office. After you sign in, select your name in the upper-right corner, and then select Order History.
How many times can I activate Office 2019?
Home and Office can be installed any number of times but can only be active on three computers simultaneously. If you want to transfer to another computer, uninstall from the downloaded computer and, if necessary, activate the replacement computer over the phone.
Why is the product key invalid?
Product keys are created uniquely based on your license requirements. The Invalid Product Key message most often appears for the following reasons: Additional space or symbol is included during copying and paste. You may also want to manually replace all '-' keys between the characters with '-' on your keyboard.
Conclusion
When you start unlicensed Microsoft Office, the Sign in to set up Office dialog box will appear in which you are required to sign in to your Microsoft account (which you used to subscribe to Office), or the Enter your product key dialog box, in which you must enter the 25-character product key. Above, we have discussed how you can activate Office 2019 using the product key.
Microsoft Office 2019 Professional Plus Product Key For 5PCs
Microsoft Office 2019 Professional Plus Product Key 25 Keys Bundle Retail Wholesale