Tap windows
If you're a Windows VPN user, you're probably familiar with the word "Tap Windows." The Tap Windows is a Windows adapter that acts like a virtual network interface to assist VPN clients in creating VPN connections.
Many IT professionals recommend using a VPN. Minimize the risk of many online and spy threats. The benefits of a private connection can be enjoyed by both home and corporate users. That's why VPNs have become a useful tool for many people.
However, not necessarily convenient; many users experience internet connection problems while enabling Tap Windows. So, in this blog, we'll talk about what Tap Windows is and how to uninstall and reinstall Tap Windows.
What is Tap Windows Adapter?
The various VPN software runs a specific network driver called Tap Windows. After you install the VPN client on your device, the driver adapter appears in Device Manager. It is mainly used in VPNs for private Internet connections. The Tap Windows adapter is a special network driver. The purpose of the Adapter is to establish a VPN connection on the server provided by the VPN client/provider. Without this, you won't be able to use the VPN client on your device. So, even if you see the program of tap Windows on your computer when using a VPN client, don't panic because this is a crucial element of a VPN client, which is secure. However, users using the VPN browser extension will not encounter this program.
What is the TAP-Windows Adapter used for?
Many Windows users panic when they find an application they don't remember installing. This is a legitimate fear because many malware and spyware can appear as applications on your device seemingly out of nowhere. However, TAP-Windows Adapter is completely secure and not a virus.
The TAP Windows Adapter is a network driver used by the VPN service to connect to the server. This means that for most VPN clients, the components need to be installed on the device. If you use a browser-enhanced VPN, you won't encounter it, but you won't benefit from having a full-featured VPN client installed directly on your system.
You can also securely remove the TAP Windows Adapter if the VPN client is configured not to use the TAP-Windows Adapter to establish a private connection. In this case, the TAP-Windows Adapter may interfere with your Internet connection, making it nearly impossible to connect online.
What is a VPN?
A VPN stands for Virtual Private Network. The features allow you to access blocked websites in your country, protect your privacy from Internet providers, hackers, ISPs, or sites that collect data, and use private direct routes to speed up server connections.
Many IT experts recommend using a VPN as it can reduce the risk of many online and spy attacks. VPNs have become a useful technology for many people because both home and business users can benefit from private connections.
When to Remove or Reinstall Tap Windows Adapter?
If you are utilizing a VPN to connect to the Internet and frequently encounter connectivity issues, then it is possible that your Tap Windows driver is corrupted. In this case, you will have to reinstall the driver. However, if you've set up a VPN connection in the past but don't currently use it, the reason your Internet connection doesn't work may be because of your Tap Windows adapter. In this case, you need to completely remove the Tap Windows adapter.
However, if you do not uninstall the VPN software and continue running the VPN software, the Tap Windows adapter may be automatically reinstalled.
If you see this error "All Tap Windows adapters on this system are currently in use," you may need to restart the Tap Windows adapter to fix the error.
Where can we find TAP-Windows Adapter?
The TAP Windows adapter is listed in the list of apps and features or the Device Manager (technically the driver). By default, it is installed in the C:/Program Files/Tap-Windows folder.

The version of the TAP Windows adapter may differ depending on your operating system.
Newer Windows versions such as Windows 10, Windows 8, and Windows 7 display the NDIS 6 driver (TAP Windows, version 9.21.x).
Windows XP displays the NDIS 5 driver (TAP Windows, version 9.9.x).
How to reinstall TAP-Windows Adapter?
Sometimes, you may need to reinstall the TAP-Windows Adapter. This is to ensure that there are no corruptions causing problems with your Internet connection. Given that this is the driver needed for a VPN, this might not seem easy, but it's very quick and easy.
Follow these steps to safely reinstall the TAP-Windows Adapter on your device.
First, make sure to close the VPN connection and related VPN programs. This is an important step to safely remove the TAP-Windows Adapter without interruption or error.
Press Windows+R and type devmgmt.msc, then press Enter or OK to open Device Manager.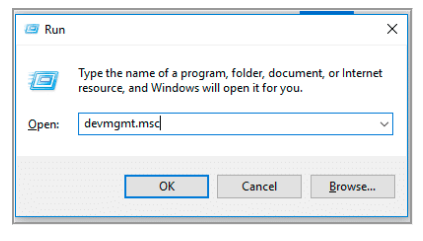 In Device Manager, scroll to the network adapter and expand its menu.
Locate the TAP-Windows Adapter V9 and check for exclamation points. Reinstalling the driver, if there is any, will solve this problem.
Right-click the driver option and select the Uninstall Device option.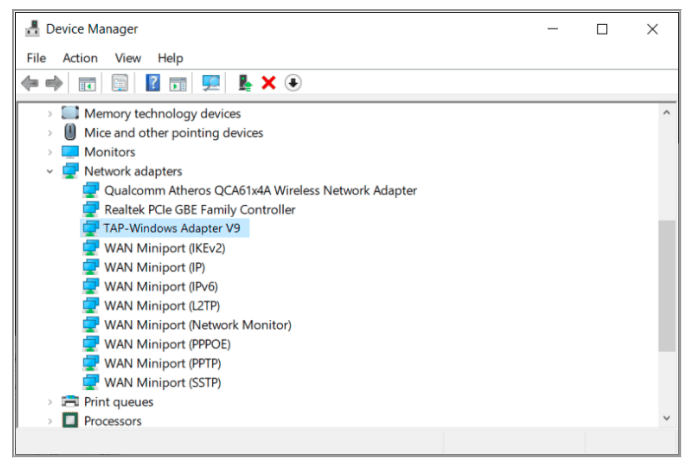 After uninstalling the Windows adapter V9 driver, you must re-open the VPN client. Depending on which VPN software you use, you will be prompted to download the driver automatically or manually.
Disable & re-enable the Tap Windows Adapter
If a TAP adapter causes any issue, it is recommended that you first disable the TAP adapter and re-enable it.
Type the control panel in the Windows search bar to open the Control Panel and click Search Results.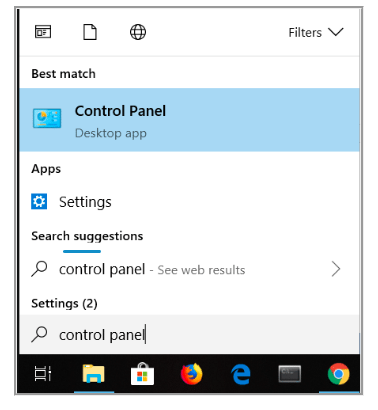 Open Network and Internet Settings from the Control Panel.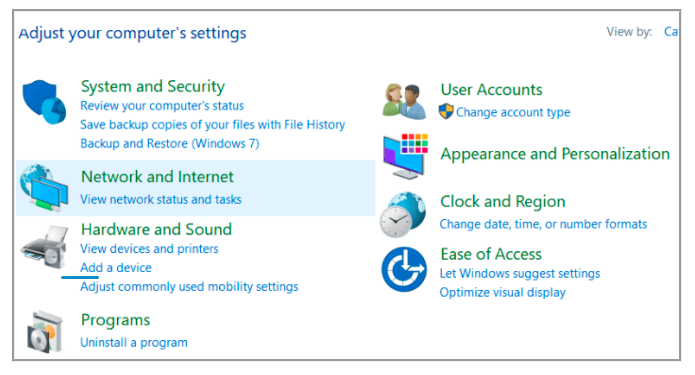 Then click Network and Sharing Center to open it.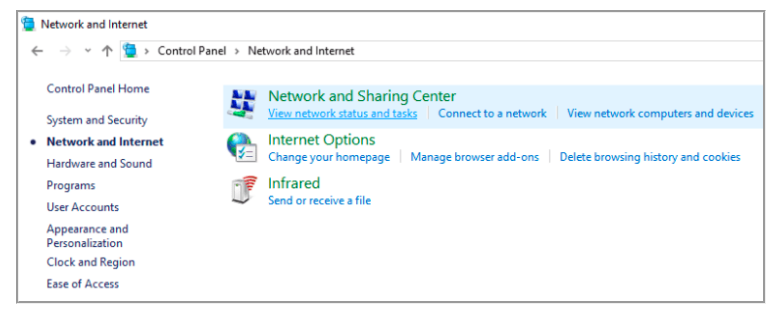 In the right pane, click Change adapter settings.
Right-click and disable a connection that uses the tab adapter. Wait a second time to enable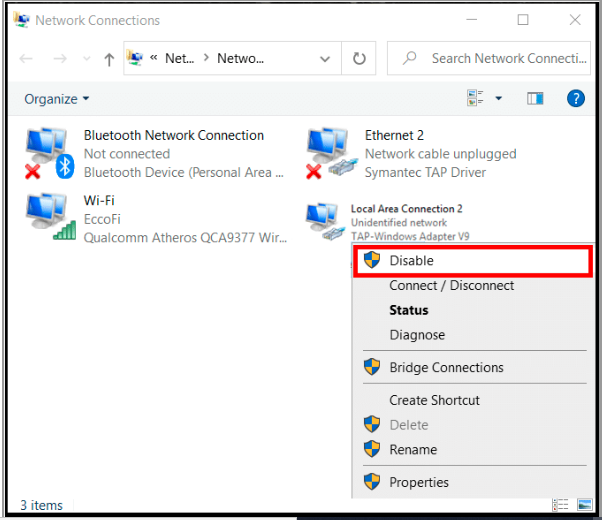 How to Remove Tap Windows Adapter?
If this problem persists, don't worry. Many users have reported that removing this driver from the system will cause it to reappear each time the system is rebooted. Therefore, if you think that uninstalling the Tap Windows adapter driver can be easily done from the device manager, it depends on the VPN software you are using. This happens because many VPN programs you have installed behave like a startup service and automatically check for and install missing drivers every time you remove a driver.
Some VPN clients automatically install missing drivers. However, following the steps below, you can easily remove Tap Windows drivers.
Navigate to Program Files.
Click where the Tap Windows appears.
Double-click exe " and follow the directions to remove the driver.
If you start your system or start a VPN client, don't stop here because the Tap Windows driver will come back to your system. Remove the entire VPN program to avoid automatic driver installation.
Open the Run window with the shortcut key (Windows+R).
Enter the appwiz.cpl command and click OK to display Programs and Features.
Now you will see a list; find your VPN client and uninstall it.
Note: Users using multiple VPN programs should remove all VPN software to avoid reinstalling the Tap Windows driver.
FAQs
Is Tap Windows Adapter Driver Safe?
Tap Windows Adapter is not a traditional virus. The VPN service relies on this network driver to connect to the server. This is a requirement for most VPN clients and must be installed on the device.
Can I delete tap Windows?
Right-click TAP-Windows Adapter V9 and select Properties. If you cannot find TAP-Windows Adapter V9 in Network adapters, click Show→ Show hidden devices from the top menu bar. On the Drivers tab, click Uninstall. Review "Remove driver software for this device" and click OK to continue.
Do I need tap-Windows Adapter?
The TAP-Windows Adapter is a network driver used by the VPN service to connect to the server. This means that most VPN clients are components that must be installed on the device.
What is a TAP device driver?
A TAP device is a fully software-supported virtual network kernel device not backed up by a hardware network adapter. The TAP driver is used to run the TAP device and is designed with low-level kernel support for Ethernet tunneling.
Conclusion
To make an Internet connection via VPN from your laptop or computer, you need to have a tap Windows 9.21 2 adapter that works. This driver is required for VPN clients to work properly, but it can cause problems because sometimes they cannot access the Internet. In such cases, you will have to uninstall and reinstall the tap window. If your device is not using a VPN, but the tap window blocks your Internet connection, you may need to remove it completely.